Makarov.com, LLC Custom Shop Work
The Makarov.com Custom Shop operated from 2001 until 2005, however due to the demands of the Retail Store, the mail order business, and backlog of work it was closed.
During that time frame, a total of:
431 Makarov Pistols were fitted with Custom sights, some were refinished, "Melt Jobs", new barrels, custom Trigger work, etc
18 Custom PA63's were done
182 Custom CZ52's were done
8 CZ50's were worked on
50 Custom CO2 Makarov's were done
21 Custom Drozd Select fire BB Guns were done
and 441 other Firearms were repaired or custom built.
The Pictures below are for Reference Only, we no longer offer the custom features shown in the these photos.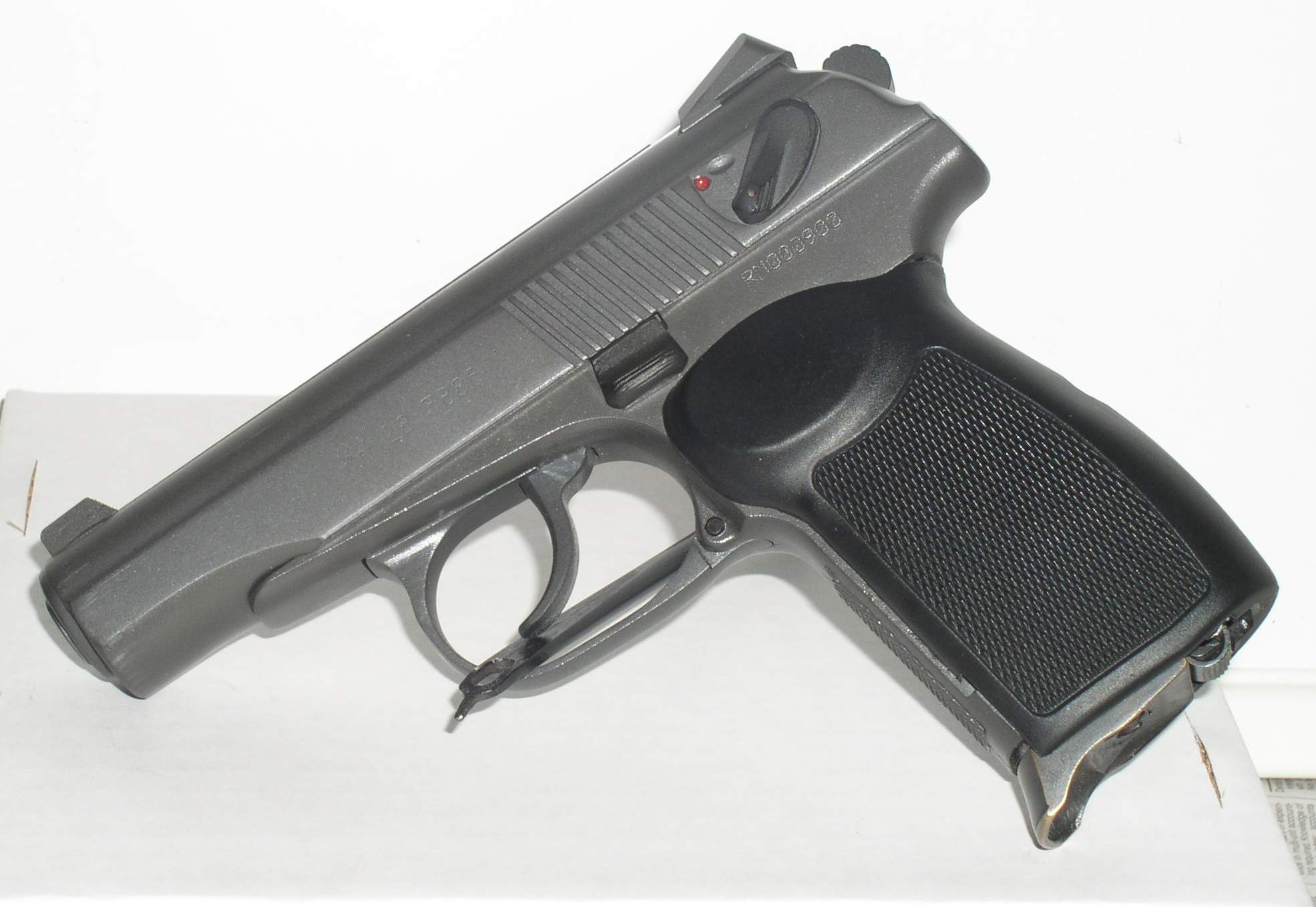 Custom HiCap IJ70 Makarov with Bulgarian Slide with Novak Low Mount Tridium sights installed, Pearce Grips. Frame and slide have been refinished in "Military Park Gray" MolyResin (custom color blend), while hammer, safety and slide release have been refinished in matte black MolyResin.
Notice - A new company has agree to produce and sell some of the old Makarov.com parts and accessories. This company is not connected with Makarov.com, and any questions should be directed to them at the following Website. You can find them at the following links:
Makarov Barrels, Barrel Presses, IJ70 Rear sites, screws, Mag Loaders, etc
CZ52 Slide releases, firing pins, etc
TT-33 Muzzle Brakes and Firing Pins
---
Makarov Slide, Novak Low Mount sights
Makarov Slide, Novak Low Mount white Dot rear sight
Makarov Slide, Novak White Dot Front sight
PA-63 with Novak Carry sights
CZ52 with Ghost ring rear sight installed, Sight picture View
CZ52 with Ghost ring rear sight installed, side view
Makarov Slide, Novak Plain black target front sight
Makarov slide, front view of Novak Night Tridium Front sight
Makarov IJ70 slide, with Makarov.com Custom Shop Fixed rear sight installed
Makarov Slide, Custom Multi-Range Front sight, the three white lines are adjusted for 25yds, 50yds and 75yds
Makarov slide with Xpress Big Dot Sights installed
Makarov Slide with Xpress Big Dot Tridium Sights installed
Makarov IJ70 slide with Fixed rear sight installed, refinished in Matte Black MolyResin
Makarov IJ70 slide with Fixed rear sight installed, refinished in Gloss Black MolyResin
Makarov IJ70 slide with Fixed rear sight installed, refinished in Matte Gray MolyResin
Makarov IJ70 slide with Fixed rear sight installed, refinished in OD Green MolyResin
Makarov IJ70 slide with Fixed rear sight installed, refinished in Matte Stainless Steel / Matte Chrome MolyResin
Refinished Makarov 8rd Magazine, done in Matte Black MolyResin, new follower, floorplate and Wolff Magazine spring
Custom Makarov with Fake suppressor, done for the Movie Industry. Pistol has been re-chambered to fire blanks.

Production Fake Suppressor, fits 1/2-32 tpi Threaded barrels.

The first ever scoped Makarov. A converted IJ70-18AH custom built for Karl Bloss
Custom PA63 with Novak Night sights, modified Pachmyer Grips, and smoothed Trigger
Custom CZ52 with Novak Lowmount tritium Sights
CCW Magazine (8rd Makarov) Extended Floorplate, Wolff 10% Extra Spring, New Magazine body finished in MolyResin
Custom IJ70 Series Makarov, designed for Concealed carry. Bobbed hammer and Fixed replacement rear sight.

Makarov Display Stands, These were offered in 5 different base finishes, and could be ordered with any of the engraved brass name plates shown at right -->





Three different colors of Custom PA63 Grips
Custom Muzzle brake for the TT33 Pistol. It replaces the stock barrel bushing and reduces muzzle flip.

Three popular upgrades for the CZ52, a machined steel firing pin, the Slide Release and the Barrel / Firing pin

Several Custom CZ52's
Notice - A new company has agree to produce and sell some of the old Makarov.com parts and accessories. This company is not connected with Makarov.com, and any questions should be directed to them at the following Website. You can find them at the following links:
Makarov Barrels, Barrel Presses, IJ70 Rear sites, screws, Mag Loaders, etc
CZ52 Slide releases, firing pins, etc
TT-33 Muzzle Brakes and Firing Pins