7.62x25 Tokarev Load Data for the CZ-52 Pistol.
(If using this load data for TT-33 Type Tokarev Pistols, Start at 15% below the Min. Charge given, and work up Slowly.)
---
Disclaimer
Reloading metallic cartridges may be extremely hazardous if not done properly. Nothing can replace experience and a good reloading guide from a reputable manufacturer of reloading components. Always reduce all minimum powder charges by 10% and "work up" a load if no signs of over-pressure are evident (bulged cases, flattened primers, etc.). Loads listed are test loads in the author's firearms, and may not be safe in any other firearms.
---
All loads developed with New Starline Brass and Winchester Small Pistol Primers.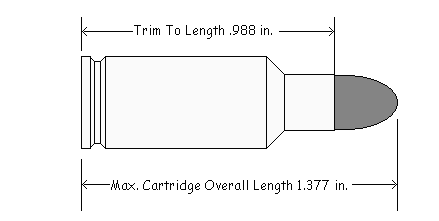 ---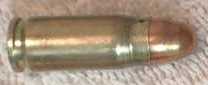 71 Grain FMJ-RN Bullet
| | | | | | |
| --- | --- | --- | --- | --- | --- |
| Powder Type | Starting Charge (grains) | Velocity (fps) | Max Charge (grains) | Velocity (fps) | Source |
| Vit. 3N-37 | 6.0 | | 8.3 | | Sierra |
| AA #7 | 8.1 | | 10.7 | | Sierra |
| Blue Dot | 8.0 | | 10.0 | | Sierra |
| N-110 | 10.0 | | 13.5 | | Sierra |
| N-340 | 5.1 | | 7.4 | | Sierra |
| Unique | 5.0 | | 7.3 | | Sierra |
| W-540 | 6.9 | | 8.7 | | Sierra |
| WSL | 4.7 | | 6.4 | | Win |
| AA #5 | 5.8 | 1425 | 6.3 | 1460 | Lee |
| | | | | | |
---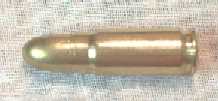 85 Grain Jacketed Hollow Point Bullet
86 Grain Jacketed Soft Point - Round Nose
| | | | | | |
| --- | --- | --- | --- | --- | --- |
| Powder Type | Starting Charge (grains) | Velocity (fps) | Max Charge (grains) | Velocity (fps) | Source |
| AA#5 | 5.8 | 1185 | 6.8 | 1235 | Lee |
| AA #7 | 7.1 | 1421 | 7.7 | | Lee |
| AA #2 | 4.2 | 1330 | 4.7 | | Lee |
| Bullseye | 3.3 | 1200 | 5.0 | 1390 | Internet |
| Bullseye | 4.6 | 1076 | 5.0 | 1151 | Internet |
| Unique | 5.8 | 1260 | 6.0 | 1290 | Internet |
| | | | | | |
| | | | | | |
| | | | | | |
| | | | | | |
| | | | | | |
---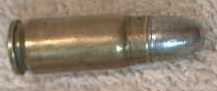 90 - 93 Grain Jacketed Bullet
93 Grain Lead Round Nose Bullet
| | | | | | |
| --- | --- | --- | --- | --- | --- |
| Powder Type | Starting Charge (grains) | Velocity (fps) | Max Charge (grains) | Velocity (fps) | Source |
| AA#5 | 5.5 | 1343 | 6.2 | | Lee |
| AA #7 | 6.8 | 1363 | 7.5 | | Lee |
| AA #7 | 7.0 | | 8.7 | | Sierra |
| AA #2 | 4.2 | 1265 | 4.7 | | Lee |
| Bullseye | 3.2 | 1173 | 3.6 | | Internet |
| Win 231 | 3.8 | 1085 | 4.2 | | Sierra |
| HP38 | 3.5 | 1070 | 3.9 | | Internet |
| V-N340 | 4.4 | 1150 | 5.9 | | Sierra |
| 2400 | 8.6 | | 11.8 | | Internet |
| 800-X | 5.0 | | 7.0 | | Sierra |
| HS-7 | 6.8 | | 8.1 | | Internet |
| Win 296 | 10.2 | | 14.4 | | Internet |
| WSL | 3.9 | | 5.4 | | Internet |
| Win 540 | 4.6 | | 6.6 | | Sierra |
| Univ. Clays | 4.5 | | 6.0 | | Sierra |
| Blue Dot | 6.4 | | 7.3 | | Internet |
| H-110 | 10.3 | | 14.2 | | Internet |
| Unique | 6.6 | 1500 | | | Sierra Accuracy Load |
---
95 Grain Lead Semi Wad Cutter
| | | | | | |
| --- | --- | --- | --- | --- | --- |
| Powder Type | Starting Charge (grains) | Velocity (fps) | Max Charge (grains) | Velocity (fps) | Source |
| AA #7 | 7.5 | 1198 | | | Sierra |
| AA #7 | 7.0 | 1072 | | | Sierra |
| | | | | | |
| | | | | | |
| | | | | | |
| | | | | | |
| | | | | | |
| | | | | | |
| | | | | | |
| | | | | | |
| | | | | | |
---
100 Grain "Plinker" Short Jacket Soft Point Bullet
| | | | | | |
| --- | --- | --- | --- | --- | --- |
| Powder Type | Starting Charge (grains) | Velocity (fps) | Max Charge (grains) | Velocity (fps) | Source |
| AA#5 | 5.3 | 1268 | 5.8 | | Lee |
| AA #7 | 6.7 | 1302 | 7.2 | | Lee |
| AA #2 | 4.0 | 1200 | 4.4 | | Lee |
| | | | | | |
| | | | | | |
| | | | | | |
| | | | | | |
| | | | | | |
| | | | | | |
| | | | | | |
| | | | | | |
---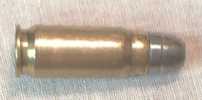 110 Grain FMJ or Jacketed Soft Point - Round Nose Bullet
113 Grain Cast Lead Bullet
| | | | | | |
| --- | --- | --- | --- | --- | --- |
| Powder Type | Starting Charge (grains) | Velocity (fps) | Max Charge (grains) | Velocity (fps) | Source |
| AA#5 | 7.2 | | 8.0 | | Lee |
| AA #7 | 8.6 | | 9.5 | | Lee |
| AA #2 | 5.6 | | 6.2 | | Lee |
| AA #7 | 7.0 | 1140 | | | Internet |
| | | | | | |
| | | | | | |
| | | | | | |
| | | | | | |
| | | | | | |
| | | | | | |
| | | | | | |
---


46 Grain JHP w/ .30 Caliber Sabot (53 grain total Projectile weight)
| | | | | | |
| --- | --- | --- | --- | --- | --- |
| Powder Type | Starting Charge (grains) | Velocity (fps) | Max Charge (grains) | Velocity (fps) | Source |
| Vit. 3N-37 | 6.0 | 1575 | 8.3 | ? | Test Data Not Confirmed |
| AA #7 | 8.1 | | 10.7 | | Test Data Not Confirmed |
| Bullseye | 4.8 | ? | 5.2 | ? | Test Data Not Confirmed |
| N-110 | 10.0 | | 13.5 | | Test Data Not Confirmed |
| N-340 | 5.1 | | 7.4 | | Test Data Not Confirmed |
| W-540 | 6.9 | | 8.7 | | Test Data Not Confirmed |
| WSL | 4.7 | | 6.4 | | Test Data Not Confirmed |
| AA #5 | 5.8 | 1550 | 6.3 | 1730 | Test Data Not Confirmed, Internet Load |